Article and Videos By Brendan Clay
It's Labor Day, September 5, 2016, and the Villanova Irish Dance Team is hard at work preparing to compete. An upbeat pop number blares throughout the tiny dance studio in St. Mary's Hall on Villanova's West Campus. The peppy lyrics reverberating in the studio's mini echo chamber are underscored by the loud taps of dancing shoes on a hard mat:
"Everybody all for one, a real summer has just begun, let's rock and roll and just let go, feel the rhythm of the drums." (Clack! Clack! Clackity! Clack!)
That was "All For One" from Disney's popular "High School Musical" film trilogy, the wildly successful millennial touchstone that launched the career of Zac Efron. The team is putting together their "fun number" for the fourth annual Intercollegiate Irish Dance Festival at Villanova University and "All For One" joins two other "High School Musical" songs as their backing music.
The festival will be held on October 1st at Villanova's Jake Nevin Fieldhouse. The competitive section begins at 11 a.m. and includes competitions in the traditional forms of the 4-hand, the 8-hand, the intermediate treble reel, and the advanced treble reel as well as a fun number. After the competition, doors open at 6 p.m. for the Grand Irish Show, which begins at 6:15. The Irish Show is a showcase featuring the dancers from the competition performing both traditional and fun numbers for the general public.
Fun numbers are dance pieces that are less technically strict with more room for theatricality and creativity than conventional reels. This year, Villanova's fun number incorporates both hard-shoe and soft-shoe dancing, but right now they're working on the hard shoe component.
The hard shoe, with its audible rhythms and precise footwork requires a higher degree of proficiency than the soft shoe even in the fun number. Current senior and former team captain Rory Beglane takes the lead in developing the hard-shoe dance and he seems confident in his group. It's clear his faith is well placed, because there is a lot of talent here.
"I won the world championships this past March in Glasgow, Scotland," says Paige Turilli, a 20-year-old junior and recent transfer student from Clemson University. This is her first year with Villanova's team, but she is a four-time world champion, and has also won the All Ireland Championship and the North American National Championship multiple times.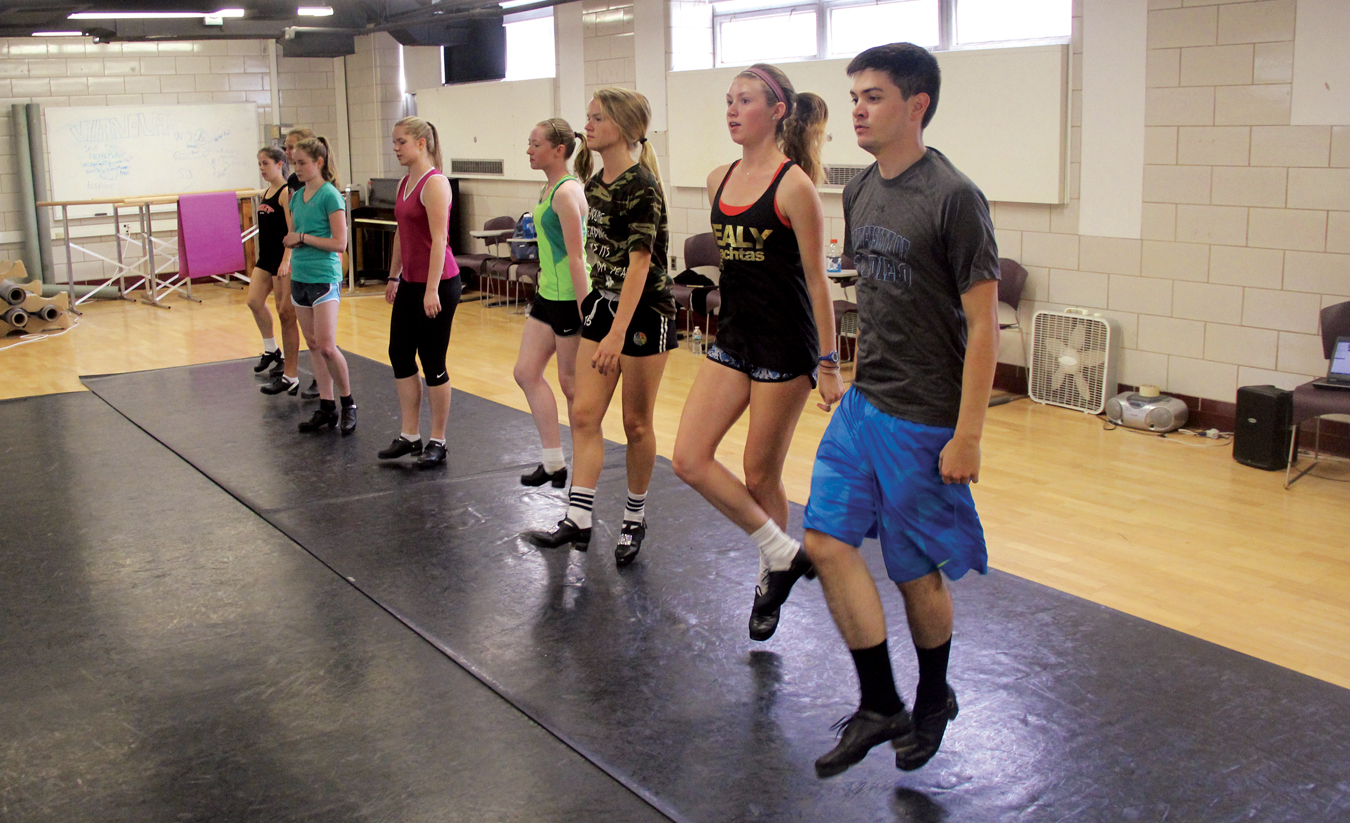 Once the tapping stops, the group starts workshopping the piece with Rory and Paige at first directing the conversation:
"[So] your feet aren't tapping when the next pair is going," says Paige, "everybody could do like a" —she slides along the floor in one smooth motion—"shift or something."
Rory mouths the beat of the piece out loud, thinking over how this would work, and starts to talk through it. He agrees with Paige's suggestion and they discuss the individual parts of the number.
"Lets try to walk it through," he says, "And when you come to the battle part just—Oh, how are you going to shift up though?"
Paige responds, and as the practice continues, other dancers jump in offering their suggestions and demonstrating their ideas. Concepts are introduced show-and-tell style, with dancers starting to explain something only to stop and tap out loud, fast rhythms on the mat before continuing their explanation. The work looks both physically and mentally challenging, but the dancers don't seem especially stressed.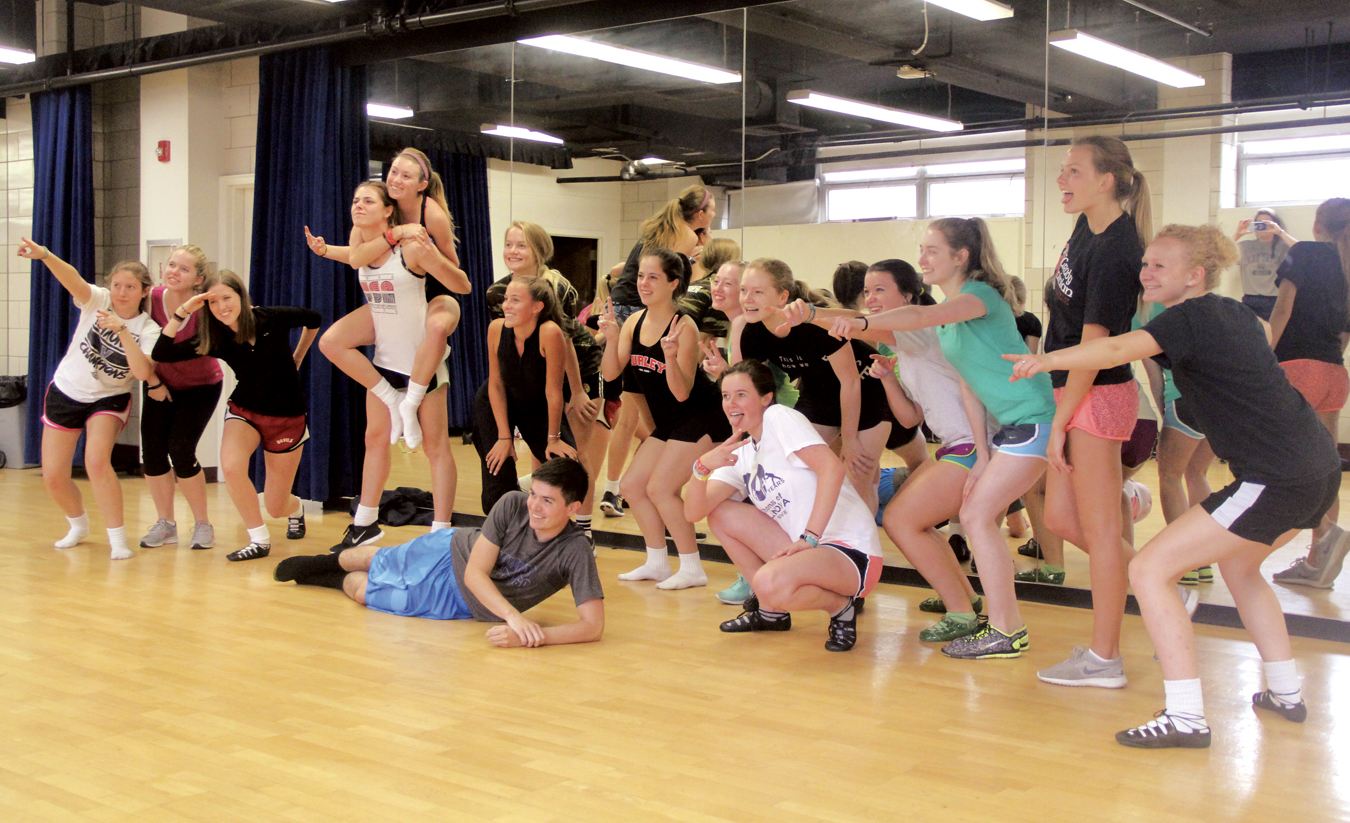 "We are a little more laid back [right now]," says Bridget Reese, a 19-year-old sophomore who is an Open Championship level dancer and a North American Irish Dance Championship medal holder. "But the competitive Irish dance world is very comparable to any sort of rigorous sport. There's a lot of outside training. A lot of the girls do CrossFit. A lot of the girls have personal trainers."
Having competed on a national stage before, the Intercollegiate Competition in October is a chance for the more experienced dancers to let loose and have some fun without too much pressure. As for why "High School Musical" is such a natural pick for the team, that has more to do with their age than their experience with Irish dance.
"I think it's fun because all of us are around the same age group," says Paige, " […] so we were all young enough to enjoy all three movies."