Photos: Brendan Clay

By Brendan Clay
On Saturday, November 4th, Villanova University hosted its fifth annual Intercollegiate Irish Dance Festival in St. Mary's Gym on Villanova's campus. The festival is a showcase of some of the best Irish dance American colleges have to offer and centers around a competition in five events: the 4-hand and 8-hand, which are group dances performed to traditional Irish music, the intermediate and advanced treble reels, which are traditional solo dances, and the fun number, a work of freestyle group choreography that can involve costumes and pop music.
The competitions are exhibitions of skill and art that are dazzling to watch. They are judged with exacting standards, and the dancers display both artistry and athleticism. Looking at the treble reels alone, dancers' moves can alternate between tightly tapped precision, dazzling high-step kicks, and in one instance, a half a handstand. And the dancers are playing to more than just the judges. A packed gym auditorium is there to cheer them on, which is important during the fun number. We spoke with some of the team captains.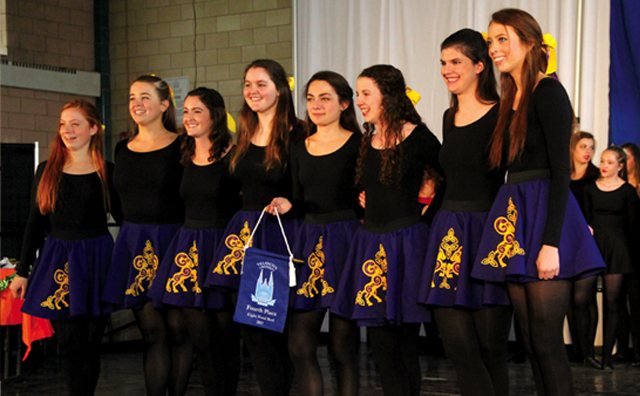 "Growing up, I was the only person in my school to do Irish dance," West Chester University student Claire McCreavy told Irish Edition last year. "It just made me stand out right off the bat. So coming to college and finding a group who does the same kind of thing at a school for me is incredible."
When Claire originally came to West Chester as a freshman in 2015, however, there was no Irish dance club, so she co-founded one with fellow dancers, Rita Grant and Emilie Braun. With West Chester's strong Irish-American community, Claire got support right away.
"We were very motivated and passionate to get through with this," said McCreavy, "So we just had to keep thinking about the end goal, dancing at the Villanova competition and connecting with other Irish dancers."
"When we finally got our costumes with the ram on the skirt I probably almost started crying," she continued, "because I was like, my dream of this team had finally come true."
Last year they competed for the first time at Villanova. They didn't place in any of the events, but their zombie-themed fun number was a highlight. Set to a medley of the Yeah Yeah Yeahs' gothy dance track "Heads Will Roll" and Michael Jackson's "Thriller" (an arrangement taken from the television show "Glee"), the dancers dressed in tattered clothes, painted their faces like corpses, and included a shambling stutter into their dance steps to imitate the undead.
For the 2017 competition, West Chester took fourth place in the 8-hand and wowed the crowd with a spirited fun number performed to the Spice Girls girl-power pop classic "Wannabe" while dressed in brightly-colored, denim-heavy 90s styles.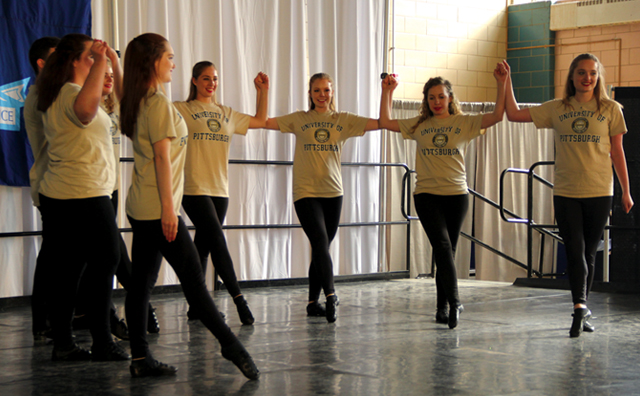 "I think at West Chester, we really emphasize the fun, and we are all such a great group of friends," said Claire in an interview conducted at this year's festival, "so I want to bring the fun and let the audience know how much fun we were having up on stage, too."
Competing for the first time this year, St. Joseph's University had a group take third place in the 4-hand and their dancer Patrick Hegarty got fourth in the advanced treble reel. They also took fourth place for their fun number set to the Calvin Harris song "Summer." Current sophomores Stephanie Crispell and Delaney Coppola founded the club last year.
"As we came onto campus there wasn't a club for Irish dance," said Crispell, "but we started meeting all these Irish dancers and people who wanted to learn Irish dance, so we decided to bring everybody together and celebrate the Irish culture and Irish dance."
"Our biggest challenge would just be getting recognition and funding within the community, because Irish dancing is seen very much as a hobby and we like to take it seriously to an extent," said Coppola. "Have a really nice time and make new friends and stuff, but of course take it seriously so we can be able to go to competitions."
Pittsburgh University also competed for the first time this year, and though they only entered in a few events and did not place, they still performed a solid 8-hand and put on a cool fun number set to the song "Footloose" by Kenny Loggins from the Kevin Bacon film of the same name.
"As a club, we're just hoping to grow at this point," said Emma Cooley, a junior and captain. "We're still really small and we know that we have a lot of talent and we're just trying to build on that and get some dances under our belt."