(Reprinted from Irish Edition, November 2010 issue; illustration by Megan Lawlor)
By Coleman Clarke
Phillies Pitcher Roy Halladay, otherwise known as 'Doc Halladay,' traded to the Philadelphia Phillies in the off-season, may just be Phillies manager Charlie Manuel's answered prayer. Before heading to the Phils, Halladay spent the first 12 seasons of his career as a Toronto Blue Jay, where he immediately commanded the League's attention in just his second career start.
It was on September 20th, 1998 in the 9th inning against the Detroit Tigers', when Halladay made his debut with a no hitter finally broken up in the 9th inning by Detroit Tigers' hitter Bobby Higginson—resulting in a Blue Jays win and a score of 2-1. For the then 21-year- old first round draft pick out of Arvada West High School in Arvada Colorado, this was an impressive beginning.
Then in 2000, after a disappointing season he went 4-7 with a whopping 10.64 ERA, demoting him to the Blue Jays class A league where he worked on altering his pitching style and making his pitches more deceptive to hitters. He was able to improve upon his high ERA from the 2000 season and eventually made his first all-star appearance in 2002, going 19-7.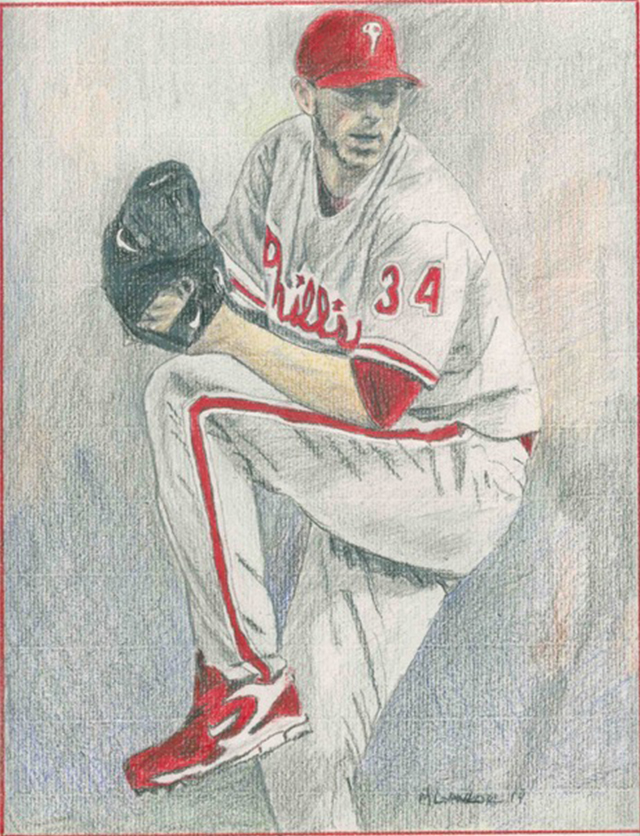 Cy Young Award
He would go on to make six additional all-star games and win the CY Young Award in 2003 with an impressive 22-7, with an ERA of 3.25. A workhorse for the Blue Jays, Halladay was leading the American League in complete games five times—and this year leading the National League in that category as well.
Overall, he leads all active pitchers with a staggering 58 complete games. This is impressive when specialty pitchers—middle relievers—customarily enter games as a result of starting pitchers unable to extend beyond six innings. This statistic cannot be underestimated in this age of shrinking strike zones and inflated offensive statistics and when steroids and other performance enhancing drugs are calling many hitting records into question.
World Series Bid
Despite Halladay's stats, one thing was missing—a shot at the playoffs and the chance to compete in the World Series. Halladay made it clear that he wanted to go to a team that was in a position to compete for a World Series title. There was one caveat—Halladay didn't want to play for a team with egos run amok and prima donnas. He wanted to play for a team where he could fit in seamlessly and be able to adapt without any outside distractions. The Phillies provided a perfect match. It was a marriage made in heaven. With the Phils, Halladay continued where he left off with Toronto by winning games and mystifying hitters with his dazzling display of pitches. He led the league in complete games with 9 while compiling an ERA of 2.44 and was the odds on favorite to win his second CY Young Award.
Dream of the Play-Offs
Before being acquired by the Phillies, Halladay languished on a team that failed to make the playoffs during his 12 years on the Toronto Blue Jays. During the 2009 season, it appeared that the Blue Jays were close to pulling the trigger on a deal that sent Halladay to a contender. Rumors and speculation dominated the baseball headlines, leading baseball insiders to believe that a trade was imminent. The Phillies, rumored to be competing for the services of the ace pitcher, needed to replace the void left by the departed Cliff Lee who achieved almost cult-like status after his dominating performance against the New York Yankees in Game 1 of the 2009 World Series. Many fans wanted the Phils to keep Lee and add Halladay, which would have been a dream tandem. The Phillies finally signed Halladay but lost Cliff Lee.
Team Mentor
Lost in the mix was Cole Hamels, the promising enigmatic pitcher who seemed to regress in the 2009 season, a season in which he posted a 10-11 win/loss record. Hamels, it seemed, lacked the killer instinct and toughness needed from a guy considered to be the potential number one pitcher on the staff. He was often criticized for his perceived lack of desire. But this year his attitude and demeanor have changed and Hamels has shown a mental toughness which he openly attributes to the influence of Roy Halladay. In his post-game interview with reporter David Aldridge, Hamels sounded confident. It could be called the 'Halladay effect.' Second Time in History
In Game 1 of the National League Division Series, Halladay needed only 104 pitches to finish off the Cincinnati Reds who were 4-0. This was his first playoff appearance and he kept the Reds off balance, forcing them to hit into groundballs on his way to an almost perfect game.
What was remarkable about his performance that night was that he didn't allow a single hit. This was the first time anyone had tossed a no-hitter in a post-season game since 1956 when Don Larsen of the New York Yankees threw a perfect game to beat the Brooklyn Dodgers.
When Halladay joined the Phils, there was no question who the number one pitcher was. On the mound, he is stoic—rarely changing his expression as he gets ready to deliver a pitch. And never flustered, his pitches leave hitters confounded as he mixes in an array of fastballs, changeups, cutters, and sliders—all thrown with tremendous location.
As Charlie Manuel makes clear, it was pitching that got the Phils to where they are now—and this is in no small measure because of Roy Halladay who may help the 'Fightin' Phils' clinch their second World Series title in four years.
As of press time, the Phillies fell to the San Francisco Giants in Game 1 of League Championship Series 4-3. Halladay yielded a pair of solo home runs to unlikely hero Cody Ross, but it was the bats that were nowhere to be found.
If the Phillies are to win another World Series title, their collective bats need to awaken from their slumber.
Just in: In Game 2 of the National League Championship Series, Phillies Pitcher Roy Oswalt pitched an absolute gem, throwing eight innings of three-hit baseball allowing only one run while striking out nine and walking three. Then with a daring slide through home plate, Oswalt rallied the Phils for their first win over the San Francisco Giant 6-1.