By Sabina Clarke
I am on a transatlantic call with former Senator George Mitchell ensconced in the Meridian Piccadilly Hotel in London's West End near Piccadilly Circus. I want to lapse into a leisurely conversation about The Troubles and his penetrating and insightful book Making Peace (1999) which I devoured. It is a riveting behind the scenes account of his coddling, cajoling and patiently listening to all the dissenting Northern Ireland parties — their ancient grudges, their laundry lists of grievances and their dramatic 'walkouts'— while doing a balancing act between the two governments .
It is like having a front row seat to history in the making while illuminating the painstaking task Mitchell undertook as special envoy to the North that led, after two and a half years of intense negotiations, to the cobbling together of the historic April 1998 Good Friday Agreement.
I want to talk about the public face of the Northern Ireland Peace Process that began with the August 1994 IRA ceasefire and the granting of Gerry Adams' visa and his October 1994 visit to Philadelphia —but I am here to conduct an interview about Mitchell's memoir The Negotiator…Reflections on an American Life which I highly recommend. It is a fascinating mix of the personal and professional filled with entertaining anecdotes and serious reflections on his remarkable life.
I first heard George Mitchell address the World Affairs Council in Philadelphia on March 17th 1998 about the state of the NI Peace Process. At the time I wondered why there were no sanctions against the Unionists for refusing to talk to Sinn Fein during a particular impasse in the talks. I now understand that he was walking a very delicate tightrope during the entire time of the negotiations. He had to choose his words carefully and wisely as the neutral facilitator. A few months later he received the prestigious Liberty Medal for his peacemaking. It was then that I had the opportunity to meet him face to face.
Despite his amazing portfolio, he struck me as a humble man who just happened to accomplish great things. And in my dreams last night I asked him what was his favorite subject in school — an innocuous non sequitur — obviously this interview was on my mind.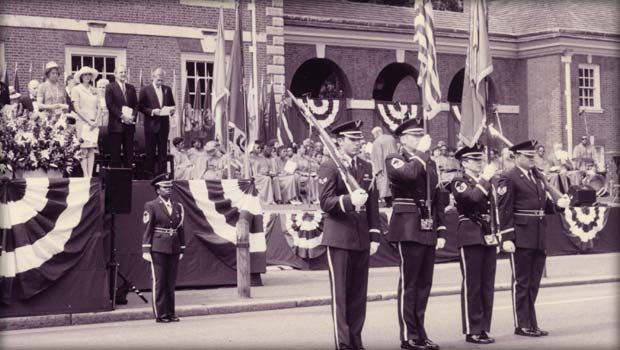 SC You say that your mother was the most influential person in your life — what was her impact on you?
GM She was a very strong forceful person who kept us going through difficult times. She had more common sense and good moral judgment than anyone I have ever known.
SC What is the greatest lesson you learned from your father?
GM Never give up. My father had a tough time. He was the son of Irish immigrants but never knew his parents. Although he didn't have any schooling, he was an avid reader. He left school after the 4th grade to begin a long life of hard work and low wages. His childhood was short.
SC In addition to your parents you are grateful to Elvira Whitten your former English teacher at Waterville High School; how did she influence you?
GM She was a very influential person in my life. She opened me up to a world of books. My big regret was not going back to thank her personally.
SC Your portrait of your brother Robbie and your last conversation with him was poignant. Do you miss him?
GM I miss him every day. He was a great guy. Although I am close with all my brothers and sister, I spent the most time with Robbie. His wife Janet still lives in Waterville. They have seven children. I often see reminders of him in his children.
SC Your three older brothers were all star athletes winning the State Championship and the National Championship — and you were not— did that bother you?
GM I had a massive inferiority complex; I was not in their league and they teased me about that.
SC You say that your father encouraged you to succeed in other ways—what did he say?
GM He urged me to study, to read, and to get the education he never had. He encouraged me without discouraging them. He kept sports in the proper perspective. He said 'Someday your brothers will look up to you the way you look up to them.'
SC Did it happen?
GM In a big way on election night in 1982 when I was elected to the Senate. Just as I was about to address the crowd, my brother Johnny, the greatest athlete in the family and one of the best known athletes in Maine history posed with me in a victory photo. He had his arms draped around me mugging for the camera. The next day the Portland Express carried the photo of me with Johnny referring to him as my "unidentified supporter." (laughing). I still tell that story today.
SC You have said that although your parents died penniless they achieved their dream because all their children went to college.
GM My parents were intelligent people but they had no education and so they had an exaggerated sense of belief in education. My father could not imagine us graduating from college and not succeeding in life. In his mind, you could not possibly fail if you had an education.
SC Why do you think they were so successful as parents?
GM I think it was a combination of factors. One was their total dedication to their children and their concept of education. Also, the simple good luck that we were born in America. My father was an FDR Democrat and a very devout religious Maronite Catholic and my mother lived the ideals of the gospel; she did not just recite them. She never had a bad word to say about anybody. Their values were simple: faith, family, work, country.
SC Do you feel you have lived the American Dream?
GM I do. I feel very very lucky in my life and I am very grateful.
SC Do you think the promise of the American Dream is disappearing?
GM Well, I think that a child born today would not have as good a chance as I did.
SC President Bill Clinton nominated you to the Supreme Court—but you turned it down; do you have any regrets about this?
GM Only when I read a decision with which I particularly disagree as in the Citizens United case on campaign finances ––one of the worst decisions ever made by any Supreme Court in history. It is already causing problems for our country and its future.
SC As Chair of the Northern Ireland Peace Talks, you made a promise to all parties involved—what was that promise and why was it so important?
GM I told them I would listen to anything they had to say and they could talk as long as they wanted—which I came to regret later (laughing) because I had to listen to the same speeches over and over for hours on end. And at the start of the negotiations, I told them that any agreement would be theirs; that I was not there to impose an agreement on them on behalf of President Clinton or the United States and that every single word in the agreement would be written by them.
SC What was the greatest challenge you faced when chairing the NI peace talks?
GM I think the length and intensity of the conflict hardened the positions on all sides. There was very little inclination to listen to the other side let alone compromise with them. I think that is why it took so long.
SC Did you ever get all 10 political parties representing both governments in the same room at the same time?
GM Never.
SC Four months after the April 10th, 1998 Good Friday Agreement, a bomb planted by the Real IRA went off in Omagh. Can you describe your feelings meeting with the Omagh victims?
GM It was a very moving meeting. After the bombing, President Clinton asked me if I would accompany him to Northern Ireland for a meeting with the families of those who were killed and the survivors who had been injured. It was a very humid Saturday evening for Northern Ireland and it was jam packed with hundreds of people in a recreation center. After the President spoke I met with some of the families and some of the victims — one of whom was 15-year-old Claire Gallagher. Claire was an aspiring pianist who lost her sight in both eyes because of the blast. She was quite amazing. She urged me not to give up and to go on.
SC Of all your many awards and honorary degrees—which are you proudest of?
GM I would say my time in Northern Ireland and the honorary degree I received from Queens University in Belfast; and later being asked to be Chancellor of Queens University.
SC The convergence of your Lebanese and Irish ancestry with your appointments as Chair of the Northern Ireland Peace Process and Special Envoy to the Middle East seems preordained; does this amaze you even now?
GM It does and that is why I ended the book with reminiscences about my two parents and the two countries and my dual heritage
SC The signing of the Good Friday Agreement was an historic event— how were you able to resolve this 800-year-old intractable conflict? What skills did you bring to the table that enabled you to succeed where others failed?
GM It wasn't just me; I think that many people had a lot to do with it. I think the real heroes were the political leaders and the people of Northern Ireland who came together in a crucial moment. In my case, I tried to be patient and fair and to treat everyone with respect and give them a chance to make their case and search for common ground which might serve as a basis for an agreement, ultimately.
SC What are your children doing now?
GM Yesterday my daughter Claire had a kind of a graduation ceremony — she goes to the Spence School in New York. When they leave the 8th grade, they have a mini-graduation ceremony. My son Andrew goes to Loyola, a Jesuit High School in Manhattan. Right now he is on a college tour visiting Boston College
About the Author: George Mitchell served as Democratic Senator from Maine from 1980 to 1995 and Senate Majority Leader from 1989 to 1995. He was appointed Chair of the Northern Ireland Peace Talks and U.S. Special Envoy for Middle East Peace. In 1998 he was awarded the Liberty Medal in Philadelphia; and in 1999 he was awarded the Presidential Medal of Freedom. He has received more than 50 honorary degrees. In 1998, he was nominated for the Nobel Peace Prize.