5 Questions For 5 Dancers:
1: How and when did you get involved in Irish Dance?
2: As your interest developed, did you set specific goals for yourself?
3: Do you consider Irish Dance a more artistic rather than athletic endeavor…or bit of both?
4: The public was captivated by Michael Flatley's Riverdance. Did that success change anything for you and your dancers?
5: Recently we read again about the controversial "beauty pageant" influence on young Irish dancers. Is this an issue for you and how do you address it?
Kieran Jordan
1: I started Irish dancing when I was five years old, with Timoney Dancers in Glenside, PA. Irish music and culture were part of my family life, handed down from my great-grandfather from Co. Kilkenny, and my grandmother. My dad exposed me to Irish music with his record collections at home, and my first exposure to Irish dancing was at the St. Patrick's Day parade in Philadelphia. After that, the story goes, I asked my parents for lessons.
2: Sure, but competition wasn't a major focus for me at the beginning. I loved the process of learning new steps and always wanted to learn more intricate steps. They were like puzzle pieces, and I enjoyed figuring out how to fit them them together — how to get the rhythms right. In those days, I think there was more emphasis on style — I remember admiring the ankle flexibility and fluidity of certain dancers, so my goals would have been along those lines — to develop a powerful yet graceful and intricate style.
3: Like many dance forms, it is both. As an athletic activity, it requires strength, stamina, flexibility, and discipline. As an art form, it requires musicality, a sense of visual shape and design, sensitivity, passion, and personal expression, combined with skill and training.
It is also a social activity, and traditionally, Irish dancing was just about people coming together to connect — to dance and be together with music.
4: Yes, Riverdance and Michael Flatley's work raised the overall appeal of Irish dancing. I graduated from college in 1996 (around the same time that Riverdance came to the US) and I had already been doing some teaching and performing in the Boston area. Certainly the popularity of Riverdance and Lord of the Dance brought me more work — more requests for gigs, classes, workshops. The only thing is, I have always specifically focused on traditional "old style" Irish dance, so I was never performing or teaching in the showy stage style. This often took some clarifying in those days, when everyone wanted to hire "Riverdance." Flatley had such a major influence, but now, I think, there is more room for individuality and many styles of Irish dance.
5: Just the other day, someone contacted me for a March performance and asked if I could provide "girls with curls." I think it is unfortunate that the costuming has become the predominant feature of Irish dancing to the general public.
Early on, I chose to teach non-competitive dance, so this type of hair and costuming has not been too much of an issue for me. In 1994-95, I had the privilege to study with dance master Joe O'Donovan in Cork, who preserved hundreds of old-style steps and taught and danced with a non-flashy, yet highly-detailed and musical approach. He was a major influence on me in my early performing and teaching career.
I teach non-competitive classes for adults and teens, and several of my students have gone on to have their own teaching and performing careers in non-competitive, traditional and sean-nós Irish dance. So it's nice to see, again, that there is room for all of these traditions to co-exist, along with the competitive style. In performance situations, costuming can be one more form of artistry and creative expression.
Originally from Glenside, PA, Kieran Jordan is a dance teacher and performer based in Boston, Mass. She is currently choreographing and performing with the sean-nós dance show, Atlantic Steps.
More info available at www.KieranJordan.com.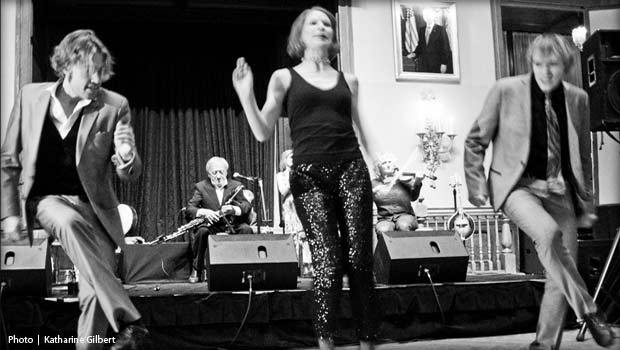 Laura Clinton
1: I started dancing when I was 8 years old. It was right around the time that Riverdance first become popular and I remember watching it on TV. My young brother, Mark, who was 4 at the time, was amazed by Michael Flatley and decided that he wanted to learn how to "dance like that."
My mom did some research and found a local school, McDade, that was giving classes at the Italian-American Club on County Line Road in Ardmore. I came along to my brother's first class, thought it looked like fun and joined in too! When my younger sister, Elizabeth, was old enough, she started taking lessons as well.
2: I didn't start seriously competing until late high school/early college. I was able to commute to class with the help of a wonderful dance family who lived close to where I was going to college. They even took me to local feisanna and any practice I needed.
My initial goals were always to place in my competitions and to move through the Grade Levels. Once I made it to Preliminary Championships, I wanted to place at each feis and eventually win my firsts to move up to Open Championships.
Now that I'm "retired," my eventual goal is to take the TCRG exam and continue teaching Irish dance. I absolutely love to teach! It's so much more fun to celebrate the successes of the dancers I teach than my own.
3: Irish dance, for me, is largely athletic. It takes so much stamina, fitness and control to perform each of your dances. Every year, the steps become more technical, with big jumps and more tricks and technique. Dancers work incredibly hard in class to perfect each step. It takes a lot of sweat to become a champion dancer.
I think that the artistic side comes in to play when the teachers, and in some cases the dancers, are choreographing the steps and routines. Each step is its own performance. To the untrained eye, it all looks the same, but each step is tailored to fit the individual dancer's style. Much of that comes down to the artistry of the teachers.
At the same time, when a dancer competes at a feis, their costume becomes part of the artistry. Each dress is designed with stage presence in mind. You want to stand out among all of the other dancers and your dress is a reflection of your dancing and style.
4: My younger brother's fascination with Riverdance was what started my Irish dance career, so I think Michael Flatley was a large influence. Today, dancers have more opportunities to tour with dance companies because of the success of Riverdance. Shows like Lord of the Dance, Feet of Flames and Heartbeat of Home all give dancers the chance to continuing to dance after their competitive career is over. Also, many colleges and universities have their own Irish dance clubs — I wish I had something like that in college. Villanova recently hosted the first ever Intercollegiate Irish Dance Competition and they had an incredible turn out. I was able to go and it was wonderful to see so many dancers continuing their careers and experimenting with choreography.
5: I've read about the recent controversy and as someone who sees it from the "inside," I don't think it is as terrible as some people make it out to be. I could understand the shock from someone who has been away from the sport for a while, but I think the most extreme instances of make-up and costumes happen at the World Championships and other large "Majors" in Irish dance. In order to compete at that level, you must be dressed for the occasion.
As a dancer, I loved getting ready to compete and that included putting on a wig and make-up and wearing my sparkly dress. There was no better feeling than getting zipped into my brand new dress that I worked hard to earn. Anyone who says wigs should be banned has never spent a night in plastic rollers.
While I understand the controversy, I also believe that when a dancer is at a competition, on a large, well-lit stage, make-up is needed. And when you are competing against hundreds of other dancers, in an event that is subjective, it is only natural to find a way to stand out and get noticed in a unique costume.
Laura Clinton is a 27-year-old McDade-Cara alumna from Havertown, PA and is currently living in Philadelphia. She recently received her masters in education from Saint Joseph's University and teaches Irish dancing at the Second Street Irish Society.
Rosemarie Timoney
1: I started dancing when I was around six or seven years old as an after-school activity at the Glenone School in South Derry. I continued dancing until 1961, when I came to Philadelphia.
2: It was never my plan to do anything more with Irish dancing when I left Ireland but when I arrived here, I wanted to be a part of the Philadelphia Irish community and I wanted make friends at the Irish Center.
People wanted more opportunities to learn Irish dancing and through their encouragement and support I eventually started the Timoney Irish Dancers.
3: Irish dancing is both artistic and athletic. A dancer must have the physical skills and high energy to perform dances. The kids should have some level of athletic ability to be good dancers. As far as the adult dancers are concerned, I find that dancing is a great way to keep them in good mental and physical health.
For a teacher, choreography is very artistic. You work with your students and see their progress in the dance as an expression of something that comes from the heart.
4: Riverdance did not change me or the way I see Irish dancing but it did increase the popularity of Irish dancing and my class sizes. Michael Flatley's Riverdance showed the world so much of what is beautiful about our Irish culture.
5: My costumes have always been simple and conservative. My goal was to provide Irish dancing to all children in an affordable manner. While I don't necessarily agree with elaborate costumes, make-up, or hairstyles; I am not against progress and modernization in the world of Irish dance. Progress means change.
Rosemarie Timoney is director of the Timoney Irish Dancers, Glenside, PA.
Marybeth Phillips
1: I fell in love with Irish dance when my English cousin came to live with us for two years in West Philly, and took me with her to Sean Lavery — at age 18 months.  I couldn't yet be a student, but loved it!  By first grade, I took lessons from Sean's students after his death – The Kane Sisters – until they broke up the studio.  From there to Maureen McDade's at St. Alice in Upper Darby for most of my Irish dance studies, until 1974, when I was asked to teach at the Irish Center. I taught for a total of 10 years, and then became immersed in family life, career, and other artistic endeavors.
2: With McDade School, I particularly enjoyed performing, learning new choreographies from Eugene O'Donnell, among others, and getting out there with audiences who had no contact with Irish dance or Irish culture. I generally went with the flow of McDade School — whatever their agenda. As a very young teacher myself, a college student, I wanted the dancers to be prepared to "put on a show," something that would entertain any and every audience we were lucky enough to perform for. I wanted to fuse together many Irish arts, especially poetry with the dance.
I always brought in live Irish musicians, and we were lucky enough to be Irish Center-based, where there was a ready supply of great Philadelphia Ceili Group musicians at that time.  So even in 1974, I was moving towards a "Celtic twilight" kind of experience.  We participated in the feisanna to a degree, and we won medals, but I did not care for the whole scene of competition — too much time focused on something that was not a performance, and those involved distance, cost, etc. That was considered heretical then — and especially now.  But that was the way we could perform at over 400 events in 10 years, some of which were hugely high-profile, like the "Treasure of Early Irish Art" when it came to Philadelphia for three months in February 1979. May years later, I would still be contacted, in my job with entertainment, for Irish artists for such events as The Liberty Medal, and I still am.
3: I used to consider Irish dance art and not sport, in spite of the intense physicality of it.  But today, it seems to be more sport than art, and I don't see the creativity it once had. I would like to see much more artistic input, and less uniformity of steps, costumes, etc., less emphasis on competition, maybe even no competition.  Just what made me happy and productive…they can do their own thing.
4: Riverdance was my fanstasy of 20 years earlier come true!  It was such a thrill to see this medium of Irish dance become a full theatrical performance, a drama, an opera, so to speak.  I could not possibly be more proud of that.  Subsequent Michael Flatley productions could not achieve the original impact as Riverdance, but it made the world aware of Irish dance and culture, and all its many beautiful manifestations. I had been a full decade out of teaching dance regularly (although I was still doing choreography for the theatre), but I felt a great validation for so much of what I had spent my youth on.
5: The beauty-pageant aspect of contemporary Irish dance is an issue for me as a spectator, and as an Irish and American citizen, someone who prefers our own genuine Irish beauty of all our children, our own history, and our own traditions — as opposed to following pop culture, even if that pop culture is one of so-called Irish pop culture's dance "traditions" of the past 15-plus years. I dislike the wigs, the fake tans, the costumes which do not usually have any traditional Irish icons on them, such as perhaps Celtic designs, shamrocks, etc., as were worn in the past. Nor are the dresses of any materials that could be considered Irish — linen, wool, tweeds, etc.  Occasionally some still have Irish lace collars, but the costuming is so far removed from what used to be considered of Ireland that these, to me at least, are a uniform with no link to anything Irish.
Marybeth Clucas Phillips is the founder, teacher of the former Celtic Dance Troupe of Philadelphia, 1974-1984.
She is presently serving on the board of directors of the Philadelphia Ceili Group, member of the Galway Society, the Mayo Association of Philadelphia, Irish Network of Philadelphia, and the Irish Center.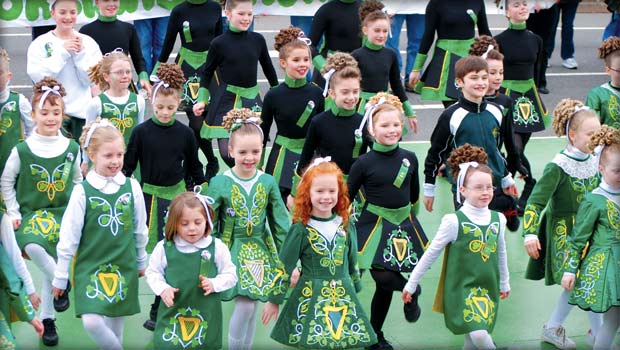 Eileen Coyle Henry
1: There was an ad in the Chestnut Hill Local about Irish Step dance lessons being held in Roxborough.  My mother saw it and asked two of our neighbors if they wanted to have their daughters begin with me and my sister Grace Ann.  Neither of my parents took dance lessons in Ireland, our mother is from Clare and her uncles were champion dancers.  Our father was from Donegal.
2: Not really.  Back when we were competing the competitions were a place where our parents could connect with their friends from Ireland.  I never thought that I would end up teaching Irish dance – it was a our sport/hobby growing up.
3: A bit of both.  The dancers must be athletic in order to dance some moves in steps.  But they also need to dance the steps in a stylish/artist manner.
4: It brought Irish dance to the forefront…and everyone wanted to Riverdance — no one called it Irish Dance.  Beginner classes became large.  Most people thought that they would be learning hard shoe right in the beginning. But the basics need to be taught before learning the more intricate steps. I compared it to learning how to be on pointe in ballet — no one ever begins on pointe, basics need to be learned. Some people didn't get it, just wanted to Riverdance.
Once Michael Flatley and Jean Butler performed Riverdance for the first time, traditional Irish dance was changed forever. People from all over the world wanted to be a part of the Riverdance phenomenon — it isn't just for those of us with Irish heritage any more. There are dancing schools in South Africa, Russia, Germany, Japan, Mexico, Serbia, Brazil, and Israel, just to name a few.
5: Honestly, I am getting very upset and annoyed by all the controversy about the makeup, tanner, wigs, and people saying that the girls look like "beauty pageant" contestants.  If there is someone that is totally against putting makeup on their child, then they do not have to put it on.  It is not stated anywhere that makeup is required.  The younger girls love putting the makeup on, especially when the older dancers come and help them.
The choice is with the parent about makeup, but as soon as that child realizes they are different, they will want a little makeup. We have never forced or made our young dancers wear a ton of makeup. At local competitions the dancers (young and older) don't have to be looking like a "beauty pageant" contestant —  we leave that up to the parents.  But a little goes a long way — a little mascara, blush, and lip gloss is perfect.
When the girls are dancing on the big stage at a Major competition — the Mid-Atlantic Region Oireachtas, North American Nationals or World Championships — they need more because they are on a large stage with bright lights which can wash them out a bit.
I am a certified adjudicator and I judge the dancer on their dancing ability.  I do not judge on how much make-up or tanner they are wearing. It is a personal choice on the part of the parent and their child. The tanner gets everyone up in a tizzy — ask any Irish person about their lovely pale skin?  What is their first comment, "I wish I could tan and be a little brown."
So the cry that "we are Irish and we are suppose to be pale" doesn't sit too well for many of those that are lovely and pale. It also gives them a little color when on the bigger stages — for the local feis, they are not required, but once again it adds to the whole package of their costume.
The wigs… they are more for convenience than anything else. Try going to sleep with tin foil, rags, or pink spongie curlers in your head (which I have done) — not a good night's sleep and quite painful.
Also ask a mother of four girls how she feels about the wigs?  She would need to put rollers in all four heads . . . would take a whole day just for her to put the rollers in. And then there are those that can't put a curl in their hair?
Why have hair curled in the first place, well that is sort of a tradition.  Most of the village gatherings took place on a Sunday…going to church (or just out to the village for the day)…the girls would always look their best and have their hair neat and curled. Hence the curling of the hair for competitions and performances.
The kids today are involved in so many other activities that before a feis they may be going to a basketball, soccer, lacrosse, or field hockey game.  They wouldn't have time to look neat after a game.  Secure a wig on and they are good to go.  It levels the playing field for all involved.
Eileen Coyle Henry ADCRG, TCRG. is a teacher with the Coyle School of Irish Dance. Her governing body is An Comisiun le Rince Galeacha in Dublin.
TCRG – means that I am a certified teacher with An Comisioun.  ADCRG – means that I am a certified Adjudicator, I can judge An Comisiun sanctioned events.