By Coleman Clarke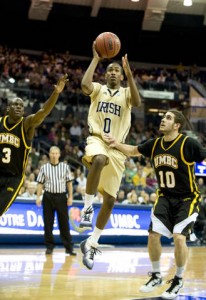 With a final score of Notre Dame 74 and Villanova 70 in a nail-biter of a game before a crowd of more than 15,000 at the Wells Fargo Center in Philadelphia, the Irish managed to pick up a win in  overtime and maintain their 8 straight game winning streak.
After a lackluster performance in the first half, an Irish victory seemed improbable until late in the game. They were outplayed by the Wildcats   and looked nothing like the resurgent basketball team that had won 7 straight games before heading into Philadelphia.
Since Notre Dame outmanned Villanova, who were missing their outstanding point guard and Big East player of the year candidate Maalik Wayns and guard James Bell, an Irish victory was anticipated. However, there are no guaranteed wins in Big East basketball, especially on the road in front of hostile fans.
After Notre Dame jumped out to a modest lead early on in the contest, the Wildcats turned up the defensive pressure and intensity and rattled the usually composed Irish to the core. They were quicker and dominated the boards, shooting nearly 50 percent from the field and overwhelmed the Irish who were lethargic and seemed to be running in cement shoes against the hungry Wildcats.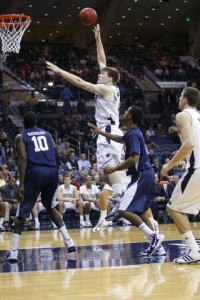 Irish coach Mike Brey was his usual composed self, exhorting his troops from the sideline with words of encouragement, despite his team's abysmal shooting performance in the first half.
The Wildcats continued to pour it on the 23rd nationally ranked Irish who wilted under the pressure of the Wildcats tenacious defense and the relentless hometown crowd.  Finally, the Fighting Irish were able to chip away at the Wildcats lead in the second half and claw their way back to single digits.  Yet, every time they inched closer, Villanova answered with a basket until they started making mistakes with missed shots and turnovers.
The Irish tightened up defensively and switched to a 2-3 zone defense in the second half, forcing Villanova to fewer baskets, and into overtime. Notre Dame Guard Eric Atkins nailed a clutch 3 point basket giving the Irish a 57-56 lead near the end of the game lifting them in an uphill battle in which they were playing from behind most of the game. Then, freshman guard Pat Connaught on connected on seven 3 point shots, helping the Irish outlast the Wildcats.
In the post-game press conference, Villanova Head Coach Jay Wright, obviously dejected, admitted "this was a tough loss." Always a class act, he was very complimentary about Irish basketball Coach Mike Brey calling him a "great coach who has shown great leadership."
Irish Head Coach Mike Brey appearing both exhausted and elated, began his remarks with, "What a night!" and commended his team on their resolve and  reminded  them of  their comeback win in Morgantown against West Virginia –telling them " We have nothing to lose, let's play fearlessly like we did in Morgantown."
Brey called his team as the "Jeremy Lin of basketball" drawing laughs from other reporters in the room. I had the opportunity to ask Coach Brey about reports that this might be his best coaching job since he has been in South Bend. He laughed and deflected attention to his team and their chemistry and their belief in each other. It was a typical Mike Brey response which speaks volumes about why his teams play so hard for him and never give up.
Compared to some of the other top 25 teams in the country, Notre Dame is not as talented, yet they are playing their best basketball at a time when the NCAA tournament is rapidly approaching in what is becoming a compelling Cinderella story with an ending that has not yet been written.